India, Iran sign coop. deal on Chabahar
India, Iran sign coop. deal on Chabahar ...
en.mehrnews.com
09/05/2015 News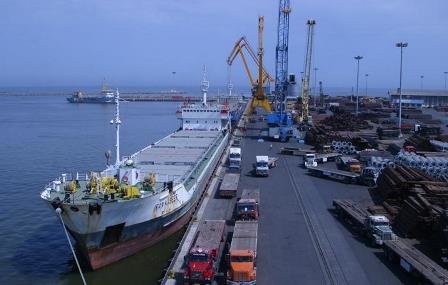 Keywords:#Abbas_Akhoundi, #Afghanistan, #Asia, #Baluchestan, #Central_Asia, #Chabahar, #Chabahar_Port, #Chabahar_port, #En.mehrnews.com, #Export, #India, #Iran, #Iranian, #Khan, #MNA, #Minister_of_Roads, #Nitin_Gadkari, #Pakistan, #Persian, #Persian_Gulf, #Russia, #Sistan, #Sistan_and_Baluchestan, #Tehran, #Zahedan
TEHRAN, May 08 (MNA) – India has signed an agreement with Iran to develop a port in the southeastern province of Sistan and Baluchestan on Wednesday.
Iranian Minister of Roads and Urban Development Abbas Akhoundi and Indian Road Transport and Highways Minister Nitin Gadkari signed the contract on Wednesday.
Iran's Minister Akhoundi hailed the bilateral transit interactions between Iran and India and expressed hope for finalization of the draft of a trilateral joint project between Iran, Afghanistan and India very soon.
He also referred to a former agreement between Iran, Russia and India to develop south-north corridor and confirmed that it has to be put into operation in very near future.
Greeting Indian ambassador to Tehran for pursuing the Iran-India deal seriously, Akhoundi called the agreement a new stage in bilateral relationship between Iran and India.
The agreement signed today initiates the legal and political procedures needed for India's investment in Chabahar port, Iranian minister said while expecting Indian state and private sectors' presence in Iran.
Calling Chabahar one of beautiful places in Iran Akhoundi added that currently cargo ships of more than 60,000 tons dock at this port and around 2.5 million tons of goods pass from this port to all over the world, annually.
Once the first phase of the project completed the annual capacity would increase 6 million tons Akhoundi pointed out and called the first phase half-way complete referring to already built platforms.
Touching upon the final capacity planned to hit 80 million tones of goods a year, he expressed hope to equip the place for transcontinental ships of between 100,000 and 300,000 tones.
He also pointed to Indian delegation visiting the port and facilities and announced his plan to share ideas after the tour.
Giving an account of the ongoing Zahedan-Chabahar 600km-rail route construction, he added that 300 km of the rail is now in use and the participation of Indian technicians is welcomed in the rest of the project.
The Indian official also thanked his Iranian counterpart and hospitable people of Iran 'who touched his heart,' and expected that the bilateral relationships between Iran and India flourish.
Giving the history of the Indian interest in Chabahar project since 2003, Indian Road Transport and Highways Minister Nitin Gadkari, called the project a big enterprise that would benefit many Central Asian countries and open up a route to landlocked states of the region.
Voicing hope over completion of the project as soon as possible, he called it his honor to sign such an important deal and welcomed all countries' investment in Chabahar as the biggest shareholder of the project.
After signing the agreement, he also promised the entrance of many Indian investors willing to invest on Petrochemical and chemical projects in Iran.
"We don't want to miss this opportunity and will move as expeditiously as possible," an Indian official had earlier said.
Chabahar Port would cut transport costs and freight time for India to Central Asia and the Persian Gulf by about a third.
The port would largely help India get around Pakistan and open up a route to landlocked Afghanistan where it has developed close economic interests.
India has already spent about $100 million to build a 220-km (140-mile) road in western Afghanistan to link up with Chabahar Port.
Last month, Khalid Khan, regional head of the Federation of Indian Export Organizations, had said Chabahar Port will help India export more to the Commonwealth of Independent States (CIS).

------
...

Related articles based on keyword density
Iran's railway revolution ...
globalconstructionreview.com 15/12/2015 Auto
14 December 2015 | By David Rogers How the Islamic Republic is set to become the land bridge that connects the continents. Following the deal struck b...View Details»

Chabahar Port in Iran: Challenge for India to upgrade it on war F...
newdelhitimes.com 06/06/2015 Economy
The Chabahar Port project is in the interest of everyone, especially Afghanistan, whose only access at the moment is through Karachi Port hence subjec...View Details»

India-Iran joint Chabahar port development stalls | JOC.com...
joc.com 18/12/2015 Economy
Turloch Mooney, Senior Editor, Global Ports | Dec 17, 2015 8:19AM EST India and Iran are trying to agree on contract terms to pave the way for work t...View Details»

Iran-China 25 Year Joint Cooperation Program Dumped by Iran...
thestatesman.com 23/07/2020 Economy
China has taken advantage of Iran's current weak position as its economy is under strain because of harsh US sanctions and negotiated a pact from a p...View Details»

Why Iran's infra push is good news for India...
business-standard.com 30/08/2016 Economy
By Kunal Bose August 30, 2016 To the advantage of Indian steel and mineral industries, there is a fund of goodwill for this country in Iran, which ...View Details»

---
EOF